Article: Brunch on Sundays - a collection inspired by the Nas track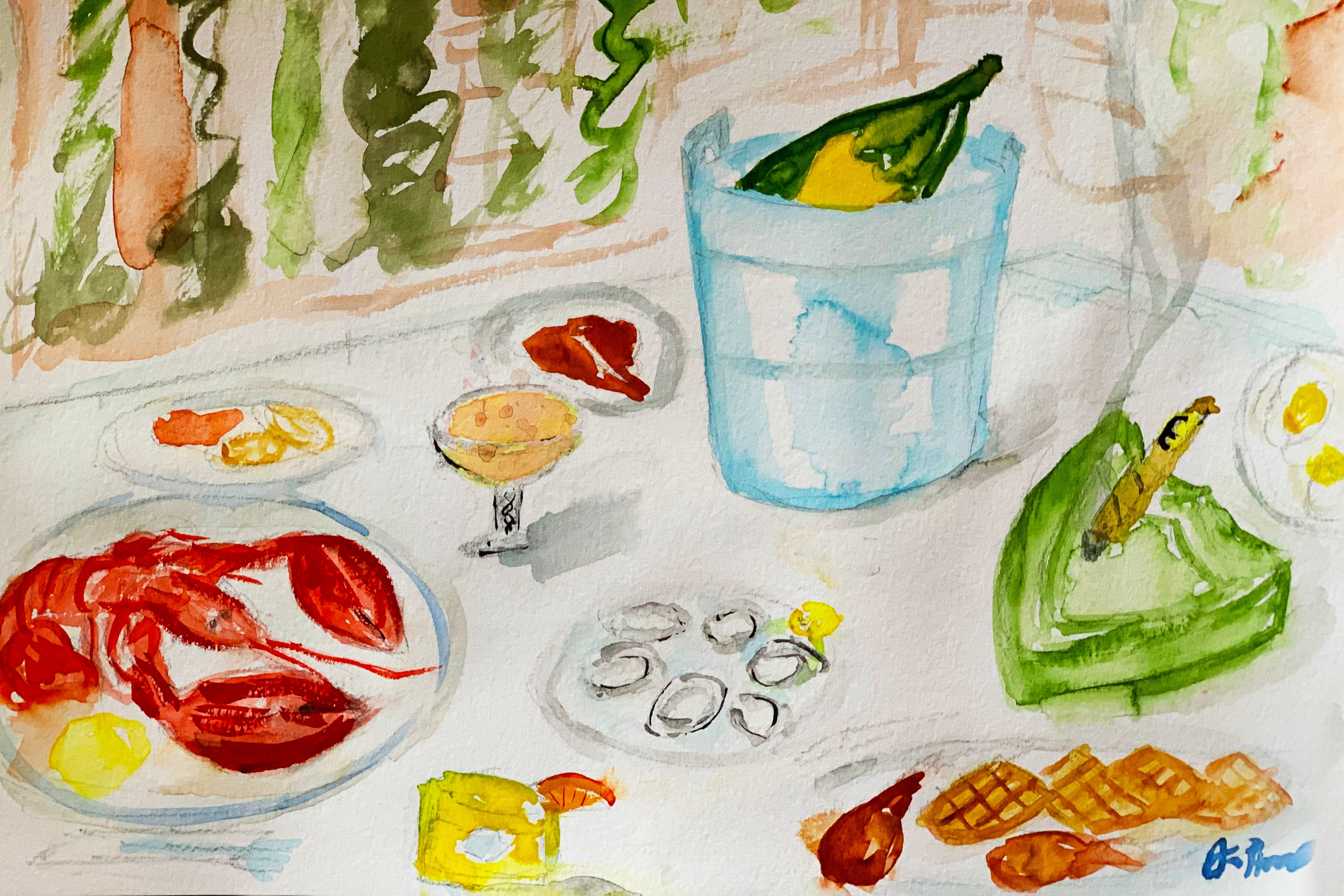 Brunch on Sundays - a collection inspired by the Nas track
"We order crabcakes, table with mad plates." -Nasir Jones
Our "Brunch on Sundays" product collection inspired by Nas lyrics & music video. 
"Bottomless Bellini's, afternoon sun"
It's his favorite day of the week; for Nas, brunch begins with libation. Bellinis will do nicely. Fresh peach purée paired with properly chilled sparkling wine. The Bellini cocktail traces its origins to Venice, invented sometime between 1934 and 1948 by Giuseppe Cipriani, founder of Harry's Bar Venezia.
If you're dining al fresco with Esco, then you're going to need some sleek shades to block out the sun's ultra violet rays and commence relaxation. 
These
Oliver Peoples Lachman sunglasses
complete the look:
"Buckets of Dom P, how many you want?"
An integral component brunch component, Champagne is best enjoyed cold. Nasir Jones enjoys multiple bottles of Dom Pérignon properly cooled in buckets.
This luxe Art Deco silver Champagne bucket is suitable. How many you want?
"That's brunch on Sundays, Mad blunts"
Nas is a longtime cigar enthusiast. Hidden in plain sight in the video, a clue of what's to come. While he raps on the rooftop brunch venue we notice he's holding a torpedo shape cigar…upon closer inspection we find the smoke is from Escobar Cigar – his latest investment foray into premium tobacco announced last summer.
A multifaceted talent, Nas is not simply a multi platinum recording artist, but Partner and Co-founder of Queensbridge Venture Partners, an early stage venture capital firm. His sharp business acumen has yielded a diverse portfolio of 130 plus direct investments ranging from financial technology, media, entertainment, restaurant hospitality, and tobacco.
For Nas, afternoon brunch incorporates a fine Escobar cigar. An alligator cigar case, cutter, and ashtray are prerequisite.
A vintage Dom Pérignon or Hennessy Cognac ashtray are fitting, as he vocalizes affinity for premium wine and spirits.
"Valet Park the Wraith – here's a hundred fifty."
A stunning visual brought to life through prose. From fine cigars to fine cars, Nas enjoys the fruits of his labor. He name checks the Wraith, the smooth and ultra luxurious V12 coupe made by Rolls-Royce motors, the apex of automotive luxury.
As he arrives to brunch in the Rolls he tips the valet one-hundred and fifty dollars – no small gesture. A supreme philanthropic flex for opening a car door. Not simply braggadocio, but rather an uplifting gesture of goodwill rooted in respectful appreciation and gratitude for the valet working over the weekend (while others enjoy brunching). 
A vintage Rolls-Royce grille form spirits decanter, a welcomed addition for the drink during brunch.
Large cash flow and generosity aren't always correlated. Nas is no scrooge, and If you endeavor to tip well, you're going to need a money clip and wallet for those greenbacks. 
"Oysters work as an arphodesic"
Nas enjoys the company of beautiful women. Plates of oysters on the half shell are on his brunch table.
This sleek stainless steel oyster knife from French cutlery firm Forge de Laguiole will be the elegant tool you need to shuck brunch oysters table side.
"Eye to eye when we toast, we don't need no bad luck. Bless up!"
Nas leisurely sips rosé Champagne from a glass vessel. He maintains eye contact during toasts.
This vintage Steuben crystal Air Twist Champagne Coupe will heighten the elegance of any toast.
During the video, brunch is briefly paused while actor Lil Rel Howrey regales the table in a celebration and admiration of Nas' continued success. Nas raises a glass high in appreciation and replies with prophetic optimism, "To better years!"
Cheers to brunch on Sundays and to better years!